We hear about the deaths of war daily but often it's hard to place a face with those names. I use the word deaths because I believe the word 'casualties' doesn't signify enough importance or significance to the person who gave their life in service to their country. There is nothing 'casual' about losing a son, husband, father, brother, grandson. These names represent a huge loss to real people in this country. We owe them more than we can ever repay.
The following is the account of my cousin's grandson who died in Iraq.
DoD Identifies Army Casualties

The Department of Defense announced today the death of four soldiers who were supporting Operation Iraqi Freedom. They died in Taji, Iraq, on Oct. 2, of injuries sustained when an improvised explosive device detonated near their vehicle. All four soldiers were assigned to the 7th Squadron, 10th Cavalry Regiment, 1st Brigade, 4th Infantry Division, Fort Hood, Texas.

Killed were:

Staff Sgt. James D. Ellis, 25, of Valdosta, Ga.

Spc. Raymond S. Armijo, 22, of Phoenix, Ariz.

Spc. Justin R. Jarrett, 21, of Jonesboro, Ga.

Spc. Kristofer C. Walker, 20, of Creve Coeur, Ill.

~~~~~~~~

Death Notice
SPC JUSTIN ROBERT JARRETT

SPC Justin Robert Jarrett, 21, of Jonesboro, passed away October 2, 2006 while serving his country in Taji, Iraq.

Born March 7, 1985 in Riverdale, Justin was a JROTC member in Gainesville, GA, and graudated from Eagles Landing High School in Stockbridge in 2003. As a child, Justin was compassionate, loved to make others laugh-even at his own expense, generous to a fault, always inquisitive, cared deeply for his family and friends, was easy going and was wise beyond his 21 years. Justin enjoyed tubing on the river in McCaysville, baby back ribs, Military movies, a '69 Ford that he had purchased with dreams of restoring it, Country and Latin music.
After graduation, SPC Jarrett entered the United States Army on February 18, 2004, and immediately reported to Ft. Knox, KY for Basic Combat Training (BCT). He was assigned to Echo Company 515th Calvary. His AIT (Advanced Individual Training) for the 19D MOS (Military Occupation Specialty) was also conducted at Ft. Knox, KY. SPC Jarrett completed BCT and graduated AIT as a 19D "Calvary Scout." On July 6, 2004, SPC Jarrett reported to Ft. Hood, TX, where he was assigned to A Troop, 7th Squadron, 10th Calvary Reg., 1st Brigade 4th Infantry Div. U.S. Army Ft. Hood, TX. On January 18, 2006, SPC Jarrett deployed to Iraq with the 4th ID, where he courageously served his country as a Calvary Scout.
In 2004, Justin met Kathleen Rodriquez in Texas. Calling her the love of his life, they were married on July 22, 2005 in Killeen, TX. They welcomed Kayden Marie Jarrett into this world on December 24, 2005. Kathleen also had a 4 year old daughter, Amariss, whom Justin had planned to adopt when he returned home. All of his life, Justin had talked of having a loving family of his own, and in Kathleen he was realizing his dream. Justin had planned to move his family to the North GA mountains when he returned home. He was to open a business there and enjoy the slower paced life that the small community of McCaysville had to offer.
Even as he planned for the future, Justin made it known that he was proud to serve his country, he loved what he was doing and was devoted to the men he served with as well. He was a hero all of his life, he will be a hero forever. We are so proud of him, and so grateful for his 21 years of life. We will keep his memory alive and he will live, for his daughters, through those who loved him. He is survived by his wife, Kathleen Rodriquez Jarrett; daughters, Amariss and Kayden; mother, Caroline Nicolella; father, Gary Jarrett; dad, George Castellaw; brother, Dean Jarrett; lifelong friends, Jesse Hurd and Walter Williams; grandmothers, Sue Richards and Barbara Jarrett; nieces, Hayley and Kylie Jarrett; and extended family of aunts, uncles, cousins and dear friends; and Katherine Ann Jarrett.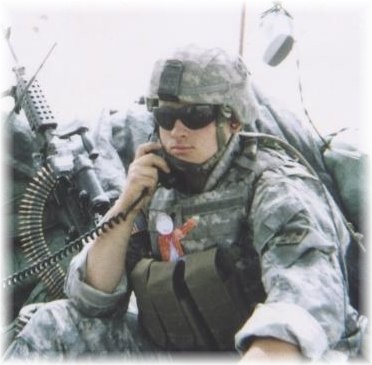 ~~~~~~~~~~~~~~
THE FUNERAL

The service was very nice yesterday. The guy from Ft. Hood that knew Justin was very well spoken and had some great stories for the family. His name was Beyer...don't know rank but he was Calvary...stetson hat and gold spurs. Brig. Gen. Anderson spoke as well. Nice guy, did all of the official stuff
.
The Freedom Riders (veterans on bikes) were there to escort us to the mountains, along with the police escort. Yesterday was also the second day of the annual battle of Jonesboro and the drum corps in full Civil War Dress was there when Justin was brought to the church...very impressive and very moving.

The three police officers on motorcycle stayed with us the whole trip and the police forces from all of the counties had traffic shutdown. We NEVER had another car moving on the road (all the way up 75, 85, 575...you get the idea) We drove straight down the middle of the interstate and traffic was even stopping on the other side. Quite a sight, the president doesn't even clear the interstate to that capacity. As we got further north, the bridges and overpasses were filled with people waving flags, standing at attention, or with their hands over their hearts. Most of the cities had their fire and rescue units out in salute too. Did I say it was amazing?

Once we got into the small communities, whole towns were on the road sides with signs, flags, veteran honor guards were out in salute, little old men and women that you know have been through wars of their own were at the ends of their driveway with American Flags, hands over their hearts and tears on their faces. The last 21 miles to the cemetery were strung with yellow and black ribbons.

And, if that weren't enough, most of the town of McCaysville was at the cemetery waiting for Justin. Honor Guards from the Blue Ridge area were there and of course all of the military and Justin's full escort of military. When we pulled up at the cemetery and got out of our cars, there was a rainbow in the dying light of the day that went across the hill where Justin was buried and disappeared into the mountains.
(It hasn't rained there in weeks) God's promise and a perfect ending.